Cat6 Training Camp: Race Day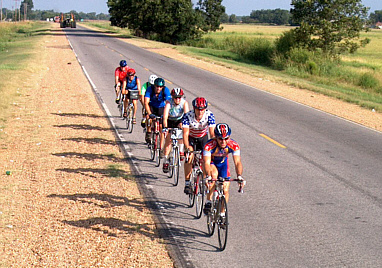 [photo caption] According to Tuffy's intense research, 2 out of 3 Masters racers in Missouri are incapable of riding in a paceline. (photo courtesy Abbike.Com)
Tuffy never had a chance.
After putting 190.7 miles in on the bike (plus another five on his feet walking) during the 2006 Cat6 Training Camp, I was thinking about how the 3rd Annual Dogwood Classic Road Race in Bradleyville, MO would play out as we cruised in our team car towards registration.
I was tired.
I can't climb hills very fast.
I've been dropped on the first significant climb in every race I've ever ridden.
Now, my third and final goal for the week was to finish the race in the main pack. As I thought more about it, the more I realized that there was little to no chance that I would be able to hang.
Then, as I went out to warm up before the race, my front tire blew out. This was the fourth flat in four days. The omens were obvious.
After hustling back to the team car and quickly switching wheels, I got a five minute warm-up in. This was going to hurt.
As the race began, I was riding in the pack trying my best to stay out of the wind. Unfortunately, I found myself towards the back half of the pack just after the start. The bad part about this, of course, is that the back of the pack is where the knuckleheads who don't know how to pack ride hang out. Sketchiness abound. And that really throws off any rhythm that you're trying to build.
After the first set of rollers, I was still there. Then, however, the bigger climbs started, and I was no longer there. I didn't even fight to hang onto the back as I knew that bigger climbs were just around the corner.
Fil was just about as unlucky. His chain popped off just after I was dropped. Together, we decided to keep going, hoping that we could catch and pass some other dropees in the next 43 miles.
We caught another guy and started a pace line. That lasted about a hundred yards before I fell off the back again. Fil, not noticing that I wasn't there, was doing all the work, which 1) didn't help Fil in the long run, 2) enabled the other guy to get a free ride, and 3) was working directly against me.
After a few minutes, Fil noticed what happened and pulled off, briefly doubling back to gather me (I was about 15 seconds back). Fil threw out the idea of DNFing. I suggested we just ride it out as a training ride and see what happens.
Eventually the Masters group caught us. So, we did what any self-respecting Cat6 Squad member would do and sucked wheels as long as we could. Luckily, we got about ten miles out of this.
Then, they too dropped us on the biggest hill on the course.
Later, a Masters splinter group caught us, so we started sucking their wheels. Eventually one of the old farts yelled at me, saying, "C'mon guys! If you're going to hang in, you're going to have to work!"
And he was exactly right -- we weren't doing any work. But neither were the two other guys in the group, and it was against those two guys that he was racing, not us. In my mind, I decided that until the old guy could get the other two guys to put together a semblance of a paceline, I wasn't going to do anything. And that paceline never happened. Then, they too dumped us on the last climb of the day.
As Fil and I arrived at the top of the final climb, we found ourselves amidst two other 4/5s in our race. I tried to get a paceline going, but Fil was the only one left who had anything to give -- the other two guys were dead weight. So I got to the front, thought I had Fil behind me, and took off on a downhill three miles from the finish.
Fil didn't follow. I don't think he expected me to go, and it was probably my fault that I didn't tell him of such. But he did what any good teammate would do and sat at the front and stalled allowing me to get away.
I stayed away on the final three miles which was all downhills and flats -- my proper riding environment. I ended up catching another 4/5 before sitting up and rolling across the finish.
Fil took off in a mini-break about a mile from the line and was the next finisher after me, about 20 seconds back.
The results haven't been posted yet, but out of 38 starters, I'm guessing we were right around the 30 spot. And, yeah, going on a three mile breakaway to finish 30th isn't exactly the coolest, but I had the legs and I wanted to at least end the race on a good note, which I did.
Unfortunately for Fil, he might've been able to hang with the pack had it not been for our three days of training rides, but, then again, that's why we were there anyway.
The End.