Minny Attorney General Takes on Tom Lyden
Or something like that.
In a move that can only seen as a response to this blog's outing of
Tom Lyden's questionable obtaining of personal information via LexisNexis
, Minnesota's Attorney General
Mike Hatch today called on the Minnesota Legislature to enact legislation
that would make it very difficult for private firms (like LexisNexis) to obtain personal information of Minnesota's citizens.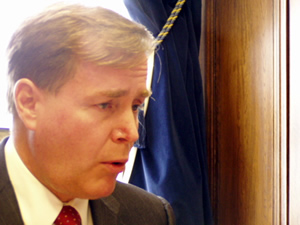 (photo caption) Minnesota Attorney General Mike Hatch as he prepares to take on criminals like KMSP-TV's Tom Lyden and others. God's rays can be seen raining down on Hatch behind him.
While this move is being marketed by Hatch and others as an attempt to curtail identity theft, Fogbot sees it as a move to end the bullying of Dead Pool commissioners by questionable "journalists".